The Trump administration claims they have lots of evidence of massive fraud. They say Trump won big and that the election is stolen. But the Media Mob doesn`t listen and claim that the winner is Joe Biden. So, Trump is taking this case to the court.
Trump is the U.S President and one of the most powerful men on this planet. He tweeted this on Friday: «Dominion deleted 2,7 million Trump votes nationwide. Data analysis finds 221,000 Pennsylvania votes switched from president Trump to Biden.
941,000 Trump votes deleted. States using dominion voting systems switched 435,000 votes from Trump to Biden.»
One of the biggest problems is probably Mail-in-ballots that allows people who dont have to show up (like dead people) to vote. Not only once, but multiple times. Thats fraud. Corruption.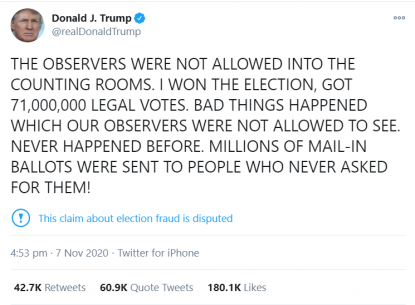 The Media Mob is silencing Trump and his administration and even Fox News that is considered to be a conservative Trump supporter is doing so. When the Trump team is talking about massive fraud, they don`t want to listen.
«No credible reports or evidence of any software issues exist,» Dominion says on its website. While no election is without isolated issues, Dominion Voting Systems are reliably and accurately counting ballots. State and local election authorities have publicly confirmed the integrity of the process,» Dominion says.

Trump tweeted that the Fox News daytime ratings have completely collapsed. Weekend daytime even WORSE. Very sad to watch this happen, Trump tweeted, but they forgot what made them successful, what got them there. They forgot the Golden Goose. The biggest difference between the 2016 Election and 2020 was @FoxNews, Trump tweeted on Friday.
Despite all these facts about fraud, the Media Mob claim that the next president in the U.S is Joe Biden, and all of the world leaders in Europe have called Biden and congratulated him. One of the only ones that are waiting to call any president is Russia`s, Vladimir Putin. Is he stupid?
This election is far from over.
To contact the author: post@shinybull.com
Disclaimer: The views expressed in this article are those of the author and may not reflect those of Shinybull.com. The author has made every effort to ensure the accuracy of the information provided; however, neither Shinybull.com nor the author can guarantee such accuracy. This article is strictly for informational purposes only. It is not a solicitation to make any exchange in precious metal products, commodities, securities, or other financial instruments. Shinybull.com and the author of this article do not accept culpability for losses and/ or damages arising from the use of this publication.